Leadership – Success As A Leader
If you want a company culture and you want your supervisors to be an extension of you in the field, then you have to provide leadership training. There is a difference between running a crew and leading a crew. Give your supervisors the tools to succeed as leaders, help set those expectations, and lead your field teams to success.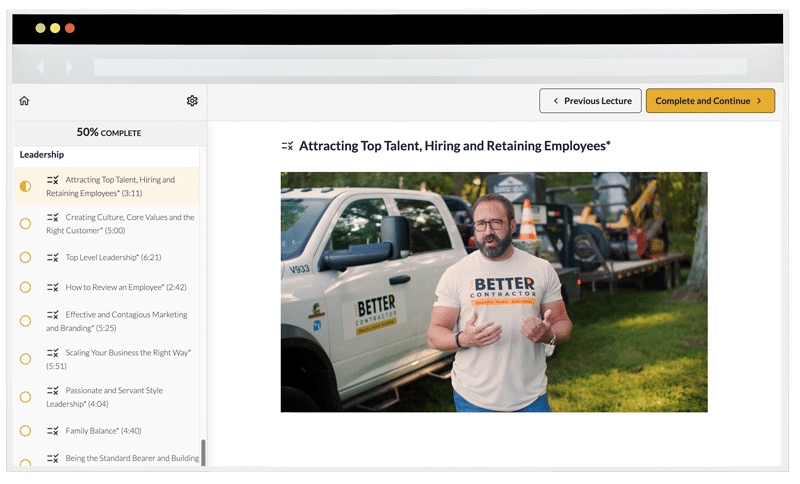 Leadership – Succeed as a Leader
Attracting Top Talent, Hiring and Retaining Employees*
Creating Culture, Core Values and the Right Customer*
Top Level Leadership*
How to Review an Employee*
Effective and Contagious Marketing and Branding*
Scaling Your Business the Right Way*
Passionate and Servant Style Leadership*
Family Balance*
Being the Standard Bearer and Building Culture*
How to Lead a Crew*
Characteristics of Top Performers*
Sales and Bidding Projects*
Mentoring and Coaching Your Team to Produce Future Leaders *
What Does a Successful Job Entail?*
When Things Go Wrong*
Contracting Leadership Training
Most businesses train their new hires and leave the training at that. Although new hire training is critical, training shouldn't end there. Leaders of your company set the standard. By providing your managers and owners with leadership training, you can keep the set standards in check.
Leadership position training ensures your company values and rules are being followed at the top of the chain. Once those leaders are trained, you can make sure they are correctly leading employees and collaborating with others efficiently and respectfully.
According to research, 79% of employees quit their jobs due to a lack of appreciation from their leaders. Additionally, only 5% of companies have integrated ongoing training and development into their company. On top of all that, a whopping 91% of millennials will stay in their jobs for fewer than three years. Don't contribute to these stats. Train your leaders to create a positive and comfortable workplace.
Leadership Training Services for Landscapers and Contractors
The Better Contractor's Training provides tips and tricks on creating and maintaining company culture, attracting and retaining the right employees, and how to balance work and life while in the contracting industry.
Get A Free Tailgate Video
Level up your business by learning how to grow with your team this year.