Get A Free Training Video
Get Your Free Training Video
Want a free video?
The Better Contractor is an exclusive online training community for contractors in the tree and landscaping business. To help our industry level up, we created a platform that offers training videos focusing on equipment, leadership, and safety. We know there's more to running a business than training. So, in addition to training videos, we offer safety and coaching programs for business owners. If we could, we would offer a free video on every subject. However, we are in the business of creating Better Contractors, and that requires work and time.
But, If you're not ready to commit just yet, we understand. That's why we offer one video for you to get a feel for our platform.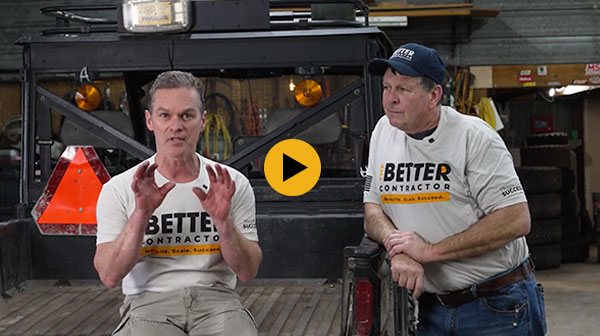 Download our free video to learn how to regroup with your team this year!
Check Out Our Equipment Training!
Proper equipment training can be a game changer. For example, using old and outdated equipment can cause major safety issues. At The Better Contractor, we talk about how you can incorporate remote-control equipment into your fleet. But, the training doesn't stop there.
We give step-by-step training on when and how to use certain pieces of equipment.
Level up your crew. When you purchase a membership with The Better Contractor, your crew has unlimited access to various equipment training videos and more!
Our equipment training program is one of the best. Don't take our word for it. Check it out!
Let's Talk
The Better Contractor was formed to collaborate with like-minded contractors who want to improve our industry. Once you've had the opportunity to watch our free video, give us a shout. We would love to hear your feedback. Our goal is to work with the best in the industry and take pride in what we do, every day. Join us!