Ready to be The Better Contractor?
Access Your Contractor Training Platform
Contractor Training & Success Made Simple
Welcome to The Better Contractor Learning Center, where your contractor training journey begins. Our industry experts have crafted a comprehensive training program that covers key elements such as safety, equipment, and leadership. Your team will have access to these training resources to help them excel in their roles.
Need to Sign Up?
If you're in search of a fresh contractor training platform, The Better Contractor is worth considering. Our training courses are tailored to keep contractors in the tree and landscaping industry engaged and well-informed. Enroll today to begin your learning journey.
Equipment Contractor Training
Staying updated with the constantly changing equipment market and safety regulations can be challenging. However, The Better Contractor offers training courses to assist your team in preventing accidents while on the job. Our equipment training classes equip your team with the necessary fundamental knowledge to avoid incidents and operate equipment safely.
Safety Contractor Training
Safety should always be the top priority, but it can be challenging to prioritize in the field. That's why our contractor training program provides easy access to high-quality safety training for your crew.
Leadership Contractor Training
Equip yourself with the necessary tools to establish a benchmark for your company. The Better Contractor's leadership training program will provide managers and crew members with the assurance to effectively lead and excel in their respective positions.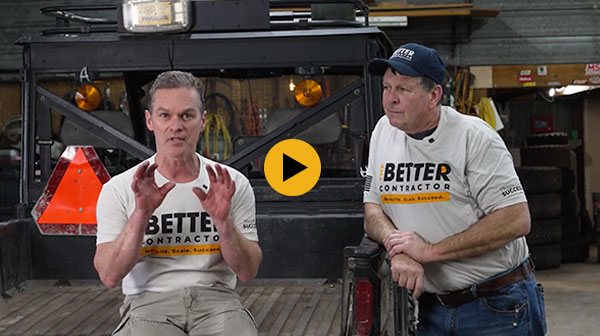 Sign up for The Better Contractor
Download our free video to learn how to regroup with your team this year!