The Better Contractor – Online Leadership Training Made for Contractors
Learn to Lead with The Better Contractor Leadership Training Program
Did you know that 79% of employees quit their jobs due to a lack of appreciation from their leaders? Additionally, only 5% of companies have integrated ongoing leadership training and development in their company. Shockingly, a whopping 91% of millennials will leave their jobs in fewer than three years! Don't let your organization contribute to these stats. Empower your leadership team in the field with our high-quality leadership training program that will enhance their skills and effectiveness.
Stop promoting someone to a foreperson position just because they were a good operator or have been with your company for a few years. You must provide them the leadership training to succeed. Our leadership courses at The Better Contractor are designed to make your forepersons an extension of you in the field. You must train them on the best way to lead a crew, work with customers, and report back to your management team.
Leadership training courses are crucial to creating a dedicated and loyal team. At The Better Contractor, our leadership training program equips your supervisors with the necessary tools to succeed as leaders, establish clear expectations, and effectively lead your field team to success.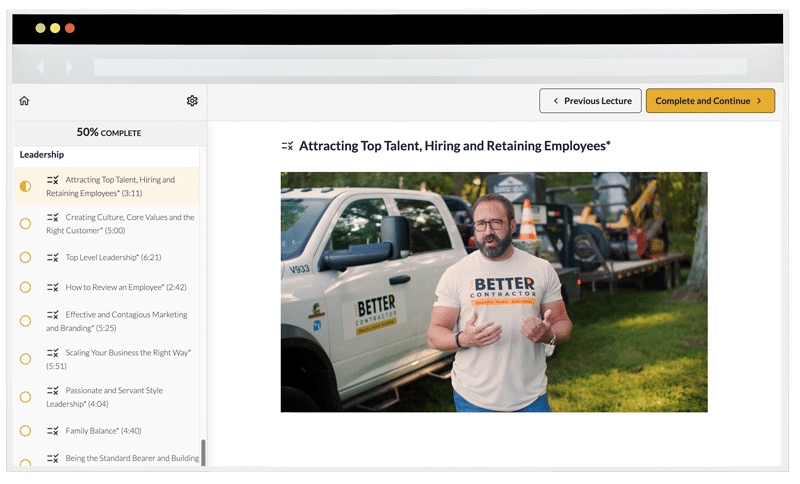 Succeed As a Leader with Leadership Training Courses
The Better Contractor's leadership training program is an outstanding resource for landscape, lawn, and tree service contractors who want to build a thriving business. By participating in this program, you can gain valuable insights into what it takes to create a positive and productive company culture, attract and keep the best employees, and achieve a healthy work-life balance. Whether you're a seasoned contractor or just starting out, this training will help you take your business to the next level. So why wait? Sign up today and start building the future you deserve!
Our Leadership Courses Include:
 Attracting Top Talent, Hiring and Retaining Employees
Creating Culture, Core Values, and the Right Customer
Top Level Leadership
How to Review an Employee
Effective and Contagious Marketing and Branding
Scaling Your Business the Right Way
Passionate and Servant Style Leadership
Family Balance
Being the Standard Bearer and Building Culture
How to Lead a Crew
Characteristics of Top Performers
Sales and Bidding Projects
Mentoring and Coaching Your Team to Produce Future Leaders
What Does a Successful Job Entail?
When Things Go Wrong