The Better Contractor – Safety Training for Tree and Landscape Contractors
Online Safety Training for Your Crew
Safety incidents can be very costly and, if severe enough, could end your business. Unfortunately, we can't assume that every employee wants to or will work safely. This is where our online safety training and onboarding process is critical. Our program sets the tone for your business and expectations, provides guidelines, and gives employees tips on how to work safely. Not only that, but your customers also know that safety is important. When your crew signs up for The Better Contractor safety training courses, your customers can feel at ease when they choose to work with your company. Completing our training courses lets your employees know that you value their safety and sets a standard of operation. If you are not training your employees, then you are not setting any standard at all – this is not a long-term business model.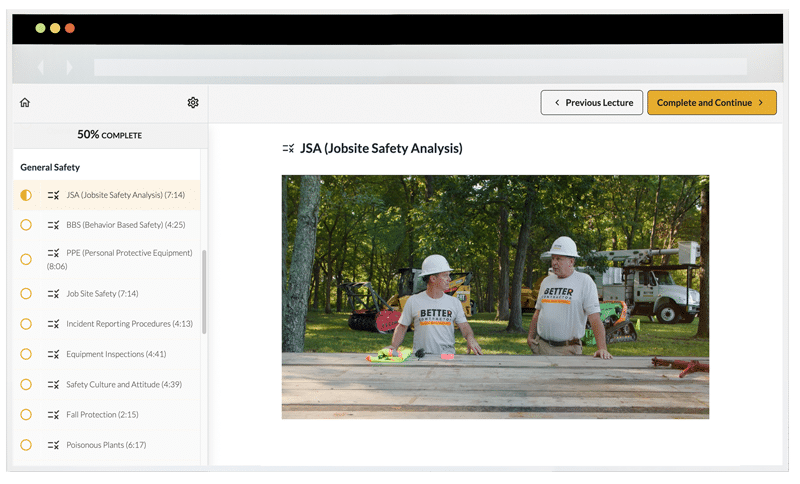 Succeed in Business with Safety Training
The Better Contractor's online courses highlight important safety training topics to ensure a successful job and safety for your crew and customers. Not only that, but our online training provides members with a downloadable safety training certification that you can proudly display on your website, LinkedIn, and other branded materials.
Our Safety Training Includes:
JSA (Jobsite Safety Analysis)
BBS (Behavior Based Safety)
PPE (Personal Protective Equipment)
Job Site Safety
Incident Reporting Procedures
Equipment Inspections
Safety Culture and Attitude
Fall Protection
Poisonous Plants
Lock Out Tag Out
Drug and Alcohol Abuse and Reasonable Suspicion
Toolbox Talks
Site-Specific Action Plan
House Keeping / Slips Trips and Falls
BBP and First Aid
Hot and Cold Weather Conditions
Spotter and Safety Lead Training
Land Agent Training for Pipeline Customers
How to Safely Lead a Crew and Audit Your Own Crew's Safety
Underground Utilities – Locating and Call Before Digging
Grounds Person Training / Tree Assessment
Laborer Training (Grounds Person Training)
Sales / Onboarding
Operator Training
Tree Felling
Climbing a Tree
Tree Care: Pruning and Hedge Training – Basics and Safety
The Better Contractor is committed to promoting ongoing conversations and has made it a priority to regularly upload Tailgate Safety Meetings. These meetings are designed to create a sense of enthusiasm and ease when it comes to safety practices. Our training courses assist foremen in discussing safety in a comfortable manner, covering topics such as general safety tips and workman's compensation statistics.
Don't let your crew or business suffer due to a lack of safety measures. Invest in safety for the benefit of all.