Straight forward and simple pricing.
In an effort to combat industry safety and culture issues, we created The Better Contractor. Our platform offers online training, coaching, and downloadable forms all at an affordable price.
Our pricing is competitive when you put it up against the cost of on-site incidents and safety directors. For example, the cost to onboard and train a safety director (annually) is $20,000! The Better Contractor beats that by a landslide.
Training Services
$397/month
The pricing for our training services includes the following:
Weekly Safety Discussion Videos uploaded each week.
One-year commitment.
The only thing due upfront is one month's payment ($397). Customers will be auto-billed each month thereafter.
The only upfront cost is the first month's payment. Customers will be auto-billed each month after.
Proper Training equals a more productive, engaged, and loyal workforce.
Training allows for more consistency amongst crews to meet your standards.
Forms To Purchase
We don't stop at videos. In addition to training and coaching, The Better Contractor customers can purchase various business forms that we discuss in the training videos.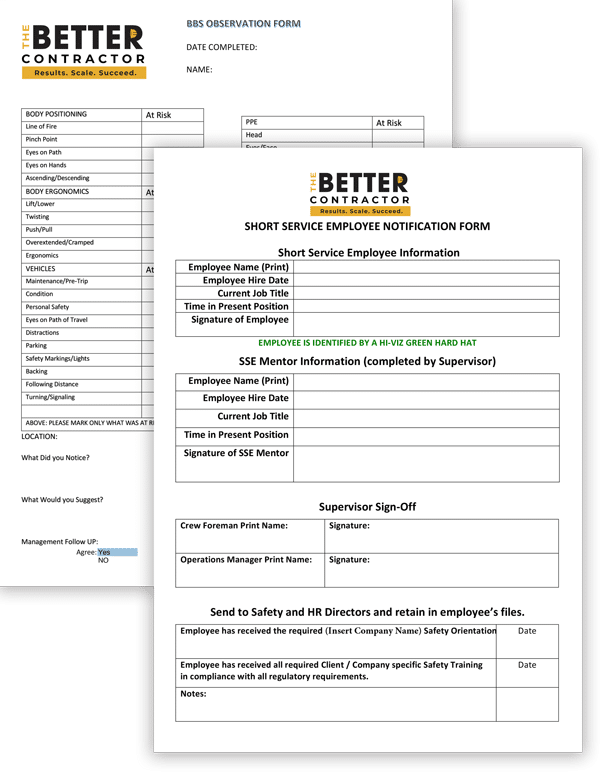 Form Pricing
$49
Edit and make your own.
Click your selection to download.
When you purchase all business and safety forms together, you are eligible for 25% off the total cost of the forms. 
Use code

TBC25OFF

at checkout.
Business Coaching, Motivational and Online Community
$297/month per person
One-year commitment
2x/month coaching calls
Learning Never Stops
In this industry, knowledge is key to personal and professional growth. As Better Contractors, we learn, push each other, and share tools to improve our day-to-day. If you want to get better, you're in the right place.
Creating A Network
At The Better Contractor, we value collaboration and learning. That's why we want to work with you and build industry friendships along the way.
Consider yourself the sum of the five people around you. So, this means to take your relationships seriously. When you sign up for our motivational online community, you can learn from people who have done similar things in different ways. Take the skills and information we teach and apply them. Join us if you're ready to grow your business.
Safety Auditing and Coaching
Contact for pricing
Because our auditing and coaching program takes it further, we must create an individualized plan for you. We will evaluate your company's needs, work through pain points, and create a plan of action together!
Our Pricing Saves You Money
Did you know that a dedicated safety director to provide this training to all new hires and annual training can cost between $25,000 – $75,000 per year? That is a lot. When you opt to be The Better Contractor, you can save money and see more employee engagement. Give your employees engaging videos that they will enjoy watching and retain at the same time.

Watch Anywhere. Anytime.
Train on your own time – rainy days, evenings in a hotel, etc.

Another Certification Under Your Belt.
Take the quiz – Get a certificate. Good employees love learning.

Be Proud To Be A Contractor.
Help your team learn crucial skills like leadership, pride, and accountability. Train your employees on what it means to see a job well done.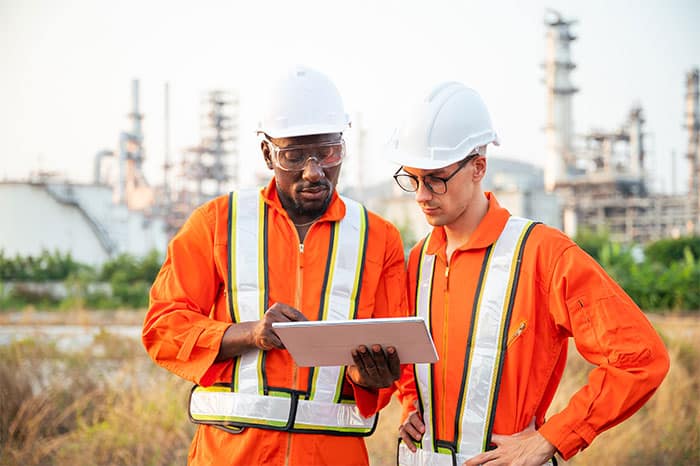 It's Easy Math!
We will question your business decision-making skills if you don't do it or see the value.
Estimated cost of TBC (Annually)
Estimated cost of Safety Director to Onboard and Train (Annually)
Estimated Incidents and Work Comp Increase as Result (Annually)
Properly Trained Employees Executing a Task
Leadership Training that Helps Teams Excel