How to Prevent Workplace Accidents
Safety incidents can be very costly and, if severe enough, could end your business. We can't assume every employee wants to or will work safely. This is where the training and onboarding process is critical as it sets the tone for your expectations, provides guidelines, and gives the employee tips on how to work safely. Not only that, your customers know that safety is important. Working with a safe crew helps customers fill at ease while using your company. This leads to better online ratings and referrals to your next potential customer.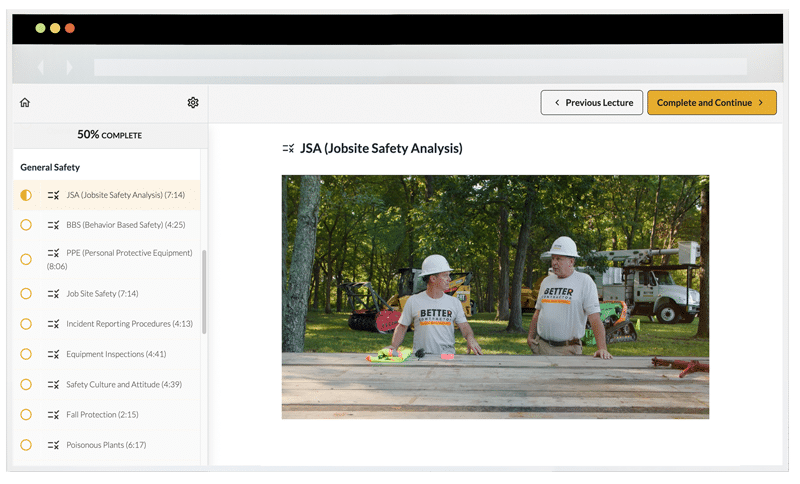 General Safety – Learn to Work Safe:
Discover some of the safety videos The Better Contractor offers.
JSA (Jobsite Safety Analysis)
BBS (Behavior Based Safety)
PPE (Personal Protective Equipment)
Job Site Safety
Incident Reporting Procedures
Equipment Inspections
Safety Culture and Attitude
Fall Protection
Poisonous Plants
Lock Out Tag Out
Drug and Alcohol Abuse and Reasonable Suspicion
Tool Box Talks
Site Specific Action Plan
House Keeping / Slips Trips and Falls**
BBP and First Aid**
Hot and Cold Weather Conditions
Spotter and Safety Lead Training
Land Agent Training for Pipeline Customers
How to safely lead a crew and auditing your own crew's safety
Underground Utilities – Locating and Call before Dig
Grounds Person Training / Tree Assessment
Laborer Training (Grounds Person Training)
Sales / Onboarding
Operator Training**
Tree Felling
Climbing a Tree
Tree Care: Pruning and Hedge Training – Basics and Safety
Not seeing something you think is essential to contractor safety? Let us know, and we may add it – we are always looking to help you become The Better Contractor.
Receive A Tailgate Video for Free
Participate in this tailgate discussion about how to regroup with your contracting or landscaping team in 2023.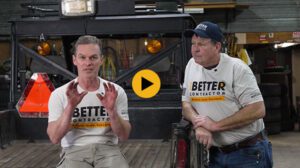 Become A Better Contractor